Wholesale API rotary tricone drilling bits in the stock from China factory is for deep oil well. Bit Description: IADC: 537 - TCI journal sealed bearing bit with gauge protection for soft to medium soft formations with low compressive strength . Compressive Strength: 85 - 100 MPA 12,000 - 14,500 PSI Ground Description: Medium hard and abrasive rocks such as sandstones with streaks of quartz, hard limestone or chert, hematite ores, hard, well-compacted abrasive rock such as: sandstones with quartz binder, dolomites, quartzite shales, magma and metamorphic coarse grained rocks. We can offer TCI bits in avariety of sizes (from 3" to 26") and all most of IADC codes.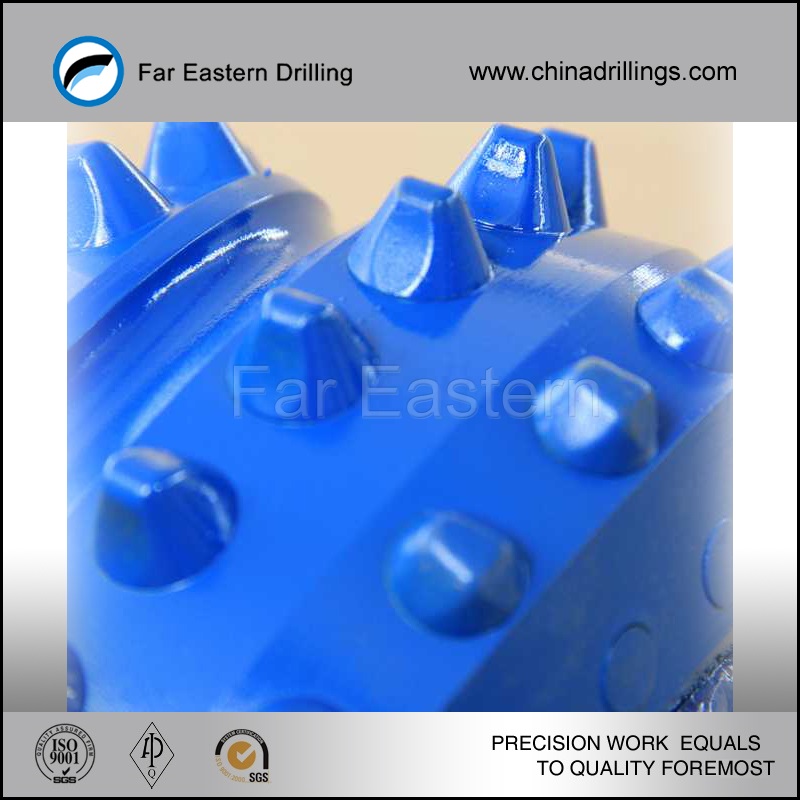 7 7/8" Tricone Bits is a regular diameter for HDD pilot hole, this model has 3 lateral jet nozzles, the hydraulic performance is better than central jet hole in clearing rock chips especially in drilling sticky rocks. Density and height of quality tungsten carbide inserts are optimized designed to reach the best ROP ( Rate of Penetration ), the bearing is sealed by Elastomer O-ring, and arms are armored by TC inserts.
Basical Specification

Size of Rock Bit

7 7/8 inches

200mm

Bit Type

TCI Tricone Bit

Thread Connection

4 1/2 API REG PIN

IADC Code

IADC 537G

Bearing Type

Journal Sealed Bearing with Gauge Protection

Bearing Seal

Elastomer or Rubber/ Metal

Heel Protection

Available

Shirttail Protection

Available

Circulation Type

Mud Circulation

Drilling Condition

Rotary drilling,high temp drilling,deep drilling,motor drilling

Nozzles

Three Nozzles

Operating Parameters

WOB (Weight On Bit)

20,223-44,940 lbs

90-200KN

RPM(r/min)

50~220

Formation

Medium formation with low compressive strength,such as medium,soft shale,medium soft limestone,medium soft limestone,medium soft sandstone, medium formation with harder and abrasive interbeds,etc.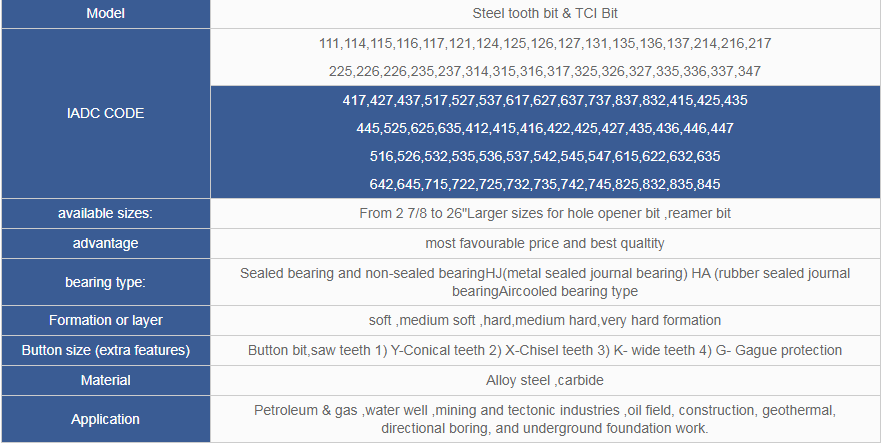 Far Eastern are factory specializes in drill bits,such as tricone bits, PDC bits, HDD hole opener,Foundation roller cutters for different applications. As a leading drill bits factory in China,increase the drill bit working life is our target. We always try to improve the bits with high penetration rates.Our purpose is to sell the high quality with the lowest price..